Labor leader Anthony Albanese says the fact he could become the first non-Anglo-Celtic prime minister in Australian histories sends a clear message that "you can achieve anything in this country".
The Sydney Morning Herald and The Age asked Albanese on Thursday if he had thought about what it would mean to Australia's multicultural communities to have an Italian-Australian as prime minister and the first Muslim member of a federal cabinet in Ed Husic.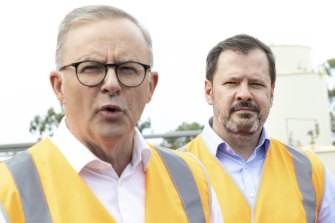 "I have absolutely [thought about it]. And I'm heartened by the response that I have [had]particularly from the Italian community," Albanese said, adding he'd be at the Marconi Club in western Sydney next Wednesday.
"There are members of the Italian community saying to me that they are going to vote Labor for the first time in their life because they want an Australia that reflects modern Australia."
There are about 1 million Australians of Italian ancestry and about 1 million Australians of Muslim faith.
loading
Albanese often talks about growing up in public housing in inner-city Sydney with his mother, Maryanne. He grew up believing his father had died soon after meeting his mother on a European cruise but later discovered Carlo Albanese was alive and living in Italy. Out of respect for his mother, he did not track Carlo down until after her death but was then welcomed into his father's life and found he had a half-brother and half-sister, according to biographer Karen Middleton.
"Modern Australia is made up of people called Husic and Albanese. But it's also made up of people like [Senator Murray] Watt and [Labor candidate] Matt [Burnett]," Albanian said on Thursday.
"We're a diverse country, and the fact that I have a non-Anglo-Celtic name and so does our Senate leader [Penny Wong] as well, I think it sends a message out there hopefully to multicultural Australia that you can achieve anything in this country."