Billie Lourd tied the knot with Austen Rydell in March this year in Cabo, Mexico.
However, filming delays in Australia on her new film Ticket to Paradise left the bride – daughter of Hollywood royalty Carrie Fisher – "a little bit nervous" about making it back in time for the big day and needing to postpone the nuptials.
"Yes, I was freaked out," Lourd tells 9Honey Celebrity in London.
READ MORE: George Clooney praises Australians after filming latest movie in Queensland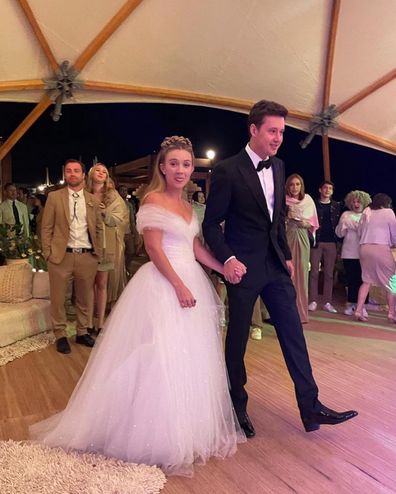 "So I got COVID, the movie shut down, we had to come home for two weeks and I was flying with my [one] year-old son, which, not recommended at all to fly to Australia with … [then] I had to go back.
"So I literally got home like two weeks before my wedding which is a little bit scary.
"But I'm not like a bridezilla kind of gal. I just let it go with the flow. So, it was all okay but I was definitely a little bit nervous about it."
READ MORE: Brad Pitt and Emily Ratajkowski 'spending a lot of time together', sources say
Lourd, who announced she's expecting her second child at the Ticket to Paradise World Premiere in the UK earlier this month, said that while the flights with a toddler were long, she loved her time in Australia.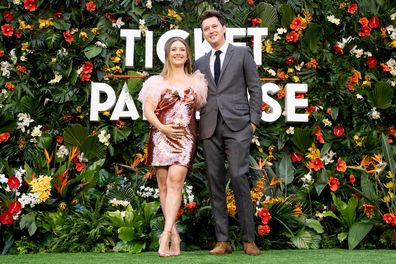 "It was one of the most incredible places I've ever been able to spend time in and being there with my family, it was just [as the kids say] a core memory," the actress told a London press conference the morning after the premiere.
"I made my kid a little book of it cause he won't remember cause he's a year old but I'm gonna force him to remember because it was incredible.
"I slapped him on a plane there and jet lag, teething, breastfeeding and quarantining but it was one of the most incredible few months of my life. It was awesome."
Lourd herself had visited Australia as a toddler with Fisher, sharing a photo of the pair on Instagram during the shoot in Queensland.
"For anyone wondering why I'm posting this on the 26th it's the 27th here down unda (aka Tomorrowland) so what better thing to post for my Momby's Australian death anniversary (4 words I never thought I'd be putting next to each other ?!?) than this picture of her and I with a koala!?," she explained to fans on social media, while talking about stages of grief.
But it helped having both "Tim Tams forever" and co-stars such as George Clooney and Julia Roberts around with her on the set of the rom-com – actors she's known since she was little.
"I've known George and Julia since I was yay big, now I'm just yay big," Lourd tells 9Honey Celebrity, gesturing her hand to indicate only a little taller.
"I've known them since I was really young, so it was incredible to get to do this movie with them – still deeply intimidating, even though I knew them – but incredible nonetheless.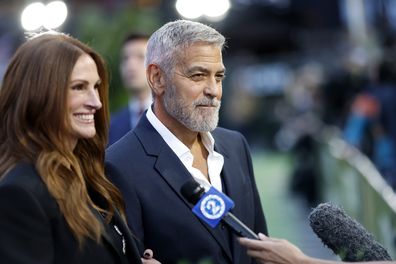 "They're both so much fun and so kind and warm, it was amazing."
in Ticket to ParadiseLourd shows off her comedic timing as Wren Butler – a party girl and best friend of lead character Lily, who joins her bestie on holiday in Bali, which results in Lily getting engaged to local boy Gede.
Lourd credits Fisher for her sense of humour, calling her "the funniest woman of all time" but tells 9Honey Celebrity she wasn't always going to follow in her mum's footsteps and become an actress.
"Both of my parents did not want me to be an actress at all," she tells 9Honey Celebrity with a laugh as she looks at co-star Lucas Bravo.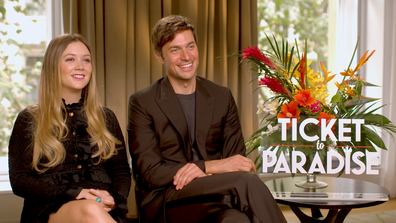 "I actually wanted to be a neurosurgeon for a while, which probably would have been dangerous," she explains.
"Then I did really well in biology … then I took AP Biology and got a C minus on that first test and I like, 'this is not the right path for me necessarily'. So I really dropped that dream.
"Then I wanted to throw music music festivals for a while because I like to go to them. Not practical. And then here I am. I couldn't escape it.
"It followed me and finally caught up with me, and now I'm here with Lucas," she laughed.
Ticket to Paradise is in cinemas across Australia now.
For a daily dose of 9Honey, subscribe to our newsletter here.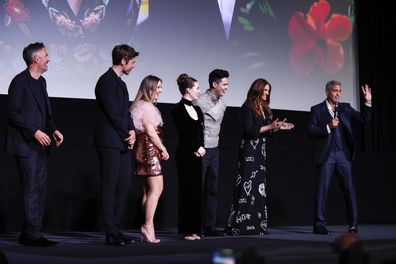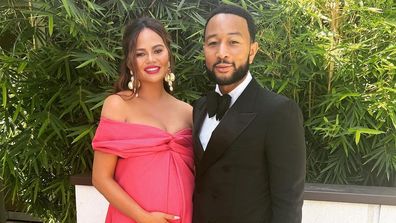 Chrissy Teigen shares bump photo at event with John Legend