Sofield, 78, criticized the Coalition government for cutting the foreign aid program, and said Morrison and Foreign Minister Marise Payne should have more regularly visited the Solomons. He said the Pacific "Step Up" policy was "too little, too late".
"I find it incomprehensible that we did not know in advance what was happening in Solomon Islands this time. It just couldn't have happened previously," he said.
Sofield said it was a "good question" as to whether Labor would do a better job, but a new government would be an "opportunity to reset the relationship".
"Reset the entire relationship with the South Pacific, sit down with people who know the South Pacific and start to completely re-engineer the way we do it, different aid programs, totally different personnel," he said.
He said the Liberal Member for Bass Bridget Archer did have his vote for crossing the floor on an integrity commission last year, but the Solomons deal had lost his vote.
"I saw Scott Morrison come in … I decided I would like to speak to the prime minister and tell him he had lost my vote," he said.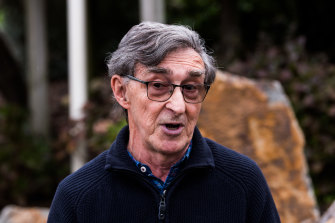 "And that's when suddenly I find I was asked around by guys on either side of me, and right at the end one of his female minders went up to the owner of the establishment and him to order me off the premises."
"If this is what our democracy is coming to, it's a pretty sad state of affairs."
He said he was "pretty upset".
"I'm a little guy, I'm pretty old now," he said.
Sofield said he was Australia's second high commissioner to the Solomons after the country achieved independence from the United Kingdom.