Counsel assisting the coroner, Jason Downing SC, told the inquest that Caddick's mother Barbara Grimley claims her daughter and Caddick's husband Anthony Koletti "were not offered food or drink for the full duration of the search warrant."
Koletti and the Grimleys hold ASIC responsible for Caddick's suspected death, the inquest has heard.
During his opening address, Downing said that Koletti had made these claims through his "musical endeavors," namely " through songs released on Spotify under the name "Paws Off"."
The Herald has previously reported that Koletti's songs allege that his wife was tortured and brutally interrogated by ASIC during the execution of the search warrants at their home.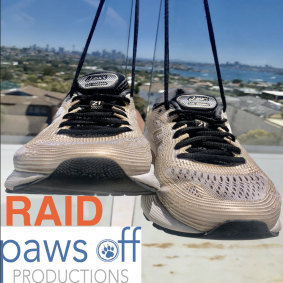 However, Griffin said that as she accompanied Caddick around the house that day she saw her eating and drinking and going outside on multiple occasions with Koletti.
At one stage during the raid, which didn't finish until 6.22pm, Caddick took a nap on her bed, Griffin told the inquest.
Griffin said that during the day Caddick was composed and she didn't see or hear anything that made her concerned for Caddick's welfare.
Within 12 hours of the raiding party leaving, Caddick, 49, vanished. Koletti didn't report her missing until lunchtime the following day, 30 hours after she vanished.
Her right shoe, containing her partial remains, washed up on a remote beach on the NSW South Coast in February 2021, three months after she was last seen.
Although suspicions were raised about Koletti's delay in reporting his wife missing and the number of inconsistencies in his accounts about her disappearance, a crime scene examination of the house was not done until 19 days after her disappearance.
Senior Crime Scene Officer Ellen Konza, who conducted the crime scene investigation, said there was no evidence of blood or any evidence of a clean-up of blood in the Dover Heights home.
She also examined the Mercedes and Audi cars in the garage. There was no evidence of blood or that the cars had been cleaned recently.
Konza also said there were no signs of anyone "being forced into the vehicle against their will" or any damage within the house to suggest there had been a struggle.
In other evidence, it was heard that Caddick's phone was used after her disappearance. The inquest had previously heard that after his wife disappeared, Koletti used her phone to call Griffin as well as to text their cleaner pretending it was his wife.
Detective Sergeant Michael Foscholo said that a manual review of Melissa Caddick's mobile phone showed a "potential pin data point" on her Uber account at Sydney airport at 12.45am on Friday 13 November.
The inquiry will resume on September 26.
Lifeline: 13 11 14 and lifeline.org.au