The fact that Morrison did not act illegally, or against standing and sessional orders, means it is unlikely – but not impossible – that a majority of MPs in the House will back the motion, which is necessary for the referral to occur.
Loading
In a defiant speech to the House on Wednesday, Morrison conceded he went too far when he acquired the treasury and home affairs portfolios, but accused the Albanese government of "intimidation" and "retribution" in bringing a censure motion against him.
The former prime minister defended his actions as being lawful, but backed implementing the recommendations of the Bell inquiry to increase transparency about ministerial appointments.
He offered a qualified apology in his speech as he acknowledged the non-disclosure of his appointment had "caused unintentional offense and I extend an apology to those who were offended".
"But Mr Speaker, I do not apologise for taking action, especially prudent redundancy action, in a national crisis in order to save lives and to save livelihoods," he said.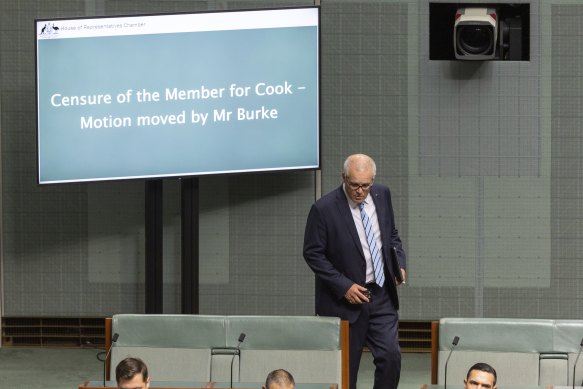 Morrison is the first former prime minister to be censured by the House of Representatives, and the motion passed with the support of 86 MPs and the opposition of 50.
Prime Minister Anthony Albanese said he expected contrition from Morrison, but "we got hubris and we got arrogance and we got denial".
The chair of the privileges committee, Labor MP Rob Mitchell, declined to comment about the Greens' plan to attempt to refer the former prime minister.
Cut through the noise of federal politics with news, views and expert analysis from Jacqueline Maley. Subscribers can sign up to our weekly Inside Politics newsletter here.