"The problem in NSW is most of this stuff is not dealt with by law, it's dealt with by principles," Twomey said. "That's all very well and good, but it doesn't in the end give you an answer, in most cases, about what you actually have to do or what you can't do."
loading
AJ Brown, a professor of public policy and law at Griffith University who will also present to the ICAC on Friday, said some pork-barrelling was legitimate and in fact inherent to democracy, and could never be fully erased. But there appeared to be a growing assumption by MPs and ministers that they had no obligations to public trust when spending taxpayer money, he said.
"The type of pork-barrelling that we've increasingly seen has got to the point where it's a hair's breadth away from direct electoral bribery – literally vote-buying – of the kind that we know other countries are deeply afflicted by, especially developing countries and emerging economies," Brown will tell the ICAC forum on Friday.
A recent report from NSW Productivity Commissioner Peter Achterstraat and Department of Premier and Cabinet head Michael Coutts-Trotter commissioned by Premier Dominic Perrottet said ministers should have to provide written reasons for approving government grants, including any deviation from the advice of public servants.
The report said there was no need to create a new criminal offense prohibiting pork-barrelling because there were existing measures to deal with unlawful conduct arising from the practice.
Nor was it appropriate to update the definition of "corrupt conduct" in the ICAC Act as the commission already had sufficient jurisdiction to investigate corruption associated with pork-barrelling, the report found.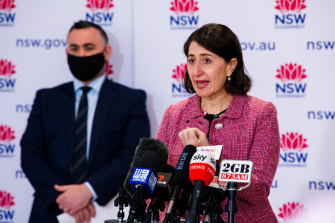 Brown said the report did not go far enough. He said current guidelines were too vague and lacked legal heft. The legal definition of "electoral bribery" was also unclear and left too much latitude for the misuse of public funds.
"That's clearly, not good enough," he said. "It's really important that those guidelines have the force of law."
Former premier Gladys Berejiklian and former deputy premier John Barilaro were previously open about the occurrence of pork-barrelling. Berejiklian told a parliamentary inquiry into the Stronger Communities Fund: "Governments in all positions make commitments to the community in order to curry favour. I think that's part of the political process whether we like it or not."
loading
After leaving office, she told an ICAC inquiry into her former lover Daryl Maguire: "It's a regular political activity that governments try to win seats, try to keep their seats… so I don't think it's a
surprise to anybody in and around government to know that we threw money at seats in order to keep them."
The ICAC is expected to soon reveal the findings of that inquiry, which also examined whether Berejiklian breached public trust or encouraged corrupt conduct by Maguire.
Friday's forum will be hosted by the ICAC Chief Commissioner Peter Hall and moderated by former ABC 730 host Kerry O'Brien. In addition to Twomey and Brown, it will hear from deputy auditor-general Ian Goodwin, Ethics Center director Simon Longstaff and former Court of Appeal judge Joseph Campbell, who all declined to comment on Wednesday.
The Morning Edition newsletter is our guide to the day's most important and interesting stories, analysis and insights. sign up here.