"I think there's a mood for change everywhere. I've been in far north Queensland, south-east Queensland, western Sydney, Bennelong, I've been here, Box Hill, Boothby, I've been in WA, the mood is the same."
Labor insiders believe they could secure victory in Victoria if they could cause an upset in Higgins and the marginal suburban seat of Chisholm with Mr Frydenberg and Mr Wilson under deep threat from the independents.
YouGov polling published on Thursday predicted that Labor could win both Chisholm and Higgins with Labor leading their poll on a 53-47, two-party preferred basis.
Ms Allen – who received a loose, walking handshake from Mr Rudd in one of the weirdest interactions since the infamous Mark Latham, John Howard handshake in 2004 – said her voters do not talk to media, are not on social media and tend not to respond to polls.
"They don't like being pinged as Liberal voters," she said.
"I'm sorry, I'm a data scientist and 125 people don't make a sample size," Ms Allen told the Financial Review. "The way they do it is if you're under 30, female and vote Green then everyone under 30 and female gets described and that's highly inaccurate."
Ms Allen predicted that her "quiet Tories" would also back Josh Frydenberg. "People are saying to me, 'gee we hope Josh gets in'," Ms Allen said.
One retired couple at the voting booth, who declined to give their names, agreed.
"In the last two elections all the pundits have been so far off the mark," one retired couple said after voting. "We hope Josh doesn't lose his seat, but it's lineball, she's [Monique Ryan] a good candidate."
Julia Kestenberg, 32, with her six-month-old baby Abigail, had a long chat with Mr Rudd – who also spoke in Mandarin to another voter – but told the Financial Review she would stick with the Liberals, despite working as a clinical dietitian in the hospital system where most of her colleagues are Labor voters.
"I'm voting Liberal, but it was still an honor to meet Kevin," she said. "A few reasons, both on a local and federal levels. I hope Josh wins, but I'm not sure how it's going to go for him."
Nick Reece, a principal fellow at Melbourne University and a former adviser to Julia Gillard, Steve Bracks and John Brumby, said he thought Higgins was in play but still a "long shot".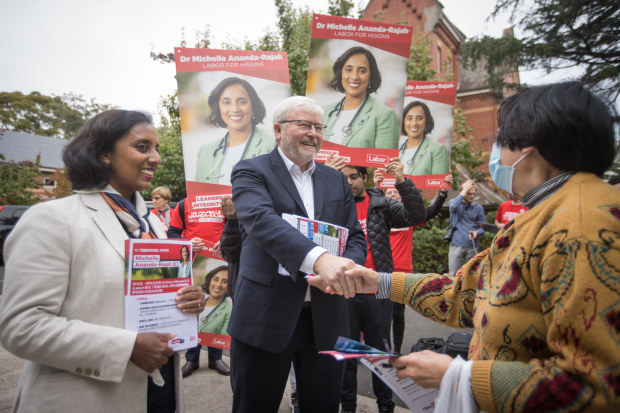 "It's a longshot but yes," he said. "Victorian Labor has allocated an organizer to the seat suggesting internal polling indicates they have a chance," he said.
He pointed to the fact no teal candidate is running in Higgins with a three-way contest involving the Greens' Sonya Semmens and the shock loss of Liberal MP John Pesutto in Hawthorn at the last state election. But Victorian Liberals also believe they could steal some seats back from Labor in McEwen, Corangamite or Dunkley.
"Equally, if Labor loses some seats or falls short, people will say 'what the hell were you doing wasting resources in Higgins'," Mr Reece said. "Politics is brutal like that."