She cast this as a betrayal of Labor's base, saying: "The [major] parties encourage you to vote [on] brand, and you get dudded when you do."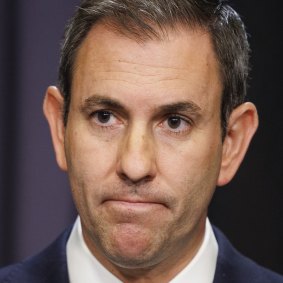 The government recently trumpeted significantly increases to welfare payments, which were high because the payments are indexed to inflation – currently 6.1 percent and rising. Treasurer Jim Chalmers said early this month: "We're under no illusions about how tough people are doing it."
Lambie cheered the teal wave that swept through urban Liberal heartland in May, calling it "the breakthrough the country's been waiting for", but said she feared the rise of minor parties and independents would be seen as a "temporary phenomenon, never to be repeated ".
She called on "lazy" voters to shun the major parties and, echoing rhetoric espoused by her former leader Clive Palmer (she was first elected as a Palmer United Party senator), urged her audience to vote against sitting MPs in safe seats in order to "kill safe seats" and make every seat marginal.
"Voters are lazy because they're told it's OK not to pay attention to the person you're voting for as long as you know where the party stands," Lambie said.
loading
A paragraph of her scripted notes which she did not read aloud said: "The reason parties prosper is because voters are lazy, and the reason voters are lazy is because parties are bad."
The festival's curator, Simon Longstaff, said Lambie was the first politician the festival had ever invited, and was chosen because she speaks with authenticity and "what you see is really what you get".