But while Reid has traditionally been a tussle between the Labor and Liberal parties, this year's addition of Ms Baini – the Liberals' former Reid branch vice president – ​​as an independent candidate could bleed critical votes from the Coalition to deliver Labor candidate Sally Sitou – a Homebush resident contesting a federal election for the first time – the must-win seat.
Ms Baini will include preferences on her how-to-vote cards but said she had not yet decided who she will direct them to, leaving open the possibility that votes for her are directed to Labor.
The lawyer and former sports administrator has strong family connections in the area as well as ties to Strathfield church St Martha's, local sports clubs and is on the board of St Patrick's College in Strathfield.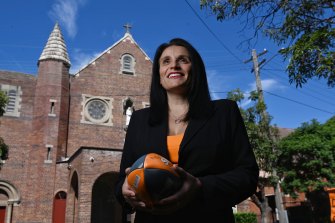 Ms Ross, Ms Hodgson and a third Liberal party member nominated Ms Baini for pre-selection last year, in a challenge to Dr Martin. However, Ms Baini withdrew amid a dispute with the party regarding the handling of an internal complaint in which she alleged inappropriate behavior by some senior men within the Liberals and government.
loading
A recent Newspoll has buoyed her campaign, showing the Liberal primary vote down 15.3 per cent to 33 per cent, and independents gaining 12.6 per cent to make up 19 per cent of the vote. However, that independent figure also includes One Nation and the United Australia Party.
Labor was in the lead with a 39 percent primary vote but only grew their share by 1.8 percent.
One Labor insider said Ms Baini was influential in the area and shaping up to be the biggest threat to the Liberals' campaign, but questioned whether she would be able to compete with Dr Martin's communications budget and if conservative Liberal voters would break their usual patterns to risk a Labor victory.
Dr Martin's decision to cross the floor during a vote on the government's religious discrimination bill earlier this year is also having ramifications across key parts of the electorate.
The MP said she decided to defend her principles in helping strike down the decade-old law which allowed religious schools to discriminate against or expel transgender and gay students, citing her experience treating children with depression and suicidal ideation. But her decision blindsided Mr Morrison, who he thought her had persuaded her to remain with the government, and sparked recriminations from her colleagues.
Both Labor and Liberal insiders said their decision might have played well in progressive parts of the electorate but it had rattled Reid's conservative religious elements who were not consulted.
One Liberal branch member described it as a "stunt" that would win over a small percentage of constituents but put traditional Liberal party voters offside.
"It has annoyed branch members in Reid and people have downed tools because of it. From a constituent voter point of view, we lose overall. She'll pick up some votes, but they usually go to Labor anyway. She it's lost conservative votes. There are lots of private and Catholic schools in Reid, people want to make those choices themselves," they said.
"She's done a lot of very left-wing things while she's been here, and this is not a left-wing seat. We're not in Wentworth, we're in Reid. It's a different style of seat. While she wants to follow the Dave Sharma, Trent Zimmerman brand on that left-wing path, unfortunately, traditional Reid voters are not left-wingers."
loading
But another branch member said local discontent was "not about Fiona Martin directly". "This is what happens when you plonk an outsider in the seat," they said.
"That's the biggest problem that's happened here – to run a federal seat of 90,000 constituents, much of your capacity to represent depends on your parochial local knowledge. She had no immersion in the local political scene.
"Reid is a complex area anyway, because it's split by Parramatta Road, it's split by economics, from housing commission to very luxurious residences. It's a very diverse seat and if you don't know how to handle that, you won't be an effective member."
Jacqueline Maley cuts through the noise of the federal election campaign with news, views and expert analysis. Sign up to our Australia Votes 2022 newsletter here.