Two years later, Mr Dutton made a 25 percent gain on that apartment when he sold it for $116,500. That was despite Brisbane's median rising only 14 percent in that time.
Like so many of his generation since then, Mr Dutton has done well from Australia's soaring property values ​​of the past three decades. In some cases he has made multimillion-dollar capital gains as Brisbane's median house price has steadily risen to its current median of $831,000.
The Dutton home is now a farm north of Brisbane in Dayboro, in his Dickson electorate. It was previously known as Juffs Farm before it was sold off as a deceased estate in 2020.
Mr Dutton and his wife, Kirilly, bought the 68-hectare portion of Juffs Farm for $2,165 million, but soon afterwards drew the ire of locals.
The riverfront property was best known in Dayboro for its popular swimming hole. But last year, The Courier Mail reported the family-friendly spot had been wrecked by close personal protection officers chasing people off.
Mr Dutton later claimed that "liability issues" prevented locals from returning to their favorite swimming hole.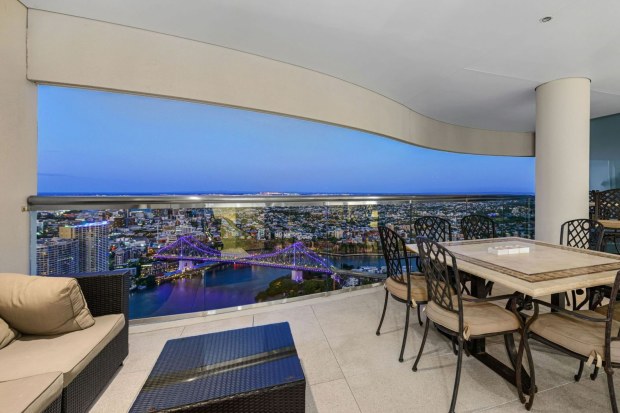 The Duttons also own a three-bedroom apartment in Brisbane's Riparian Plaza tower. They bought it from Toowoomba millionaire John Wagner a year ago for $2.7 million.
Mr Dutton has bought and sold a dozen houses and apartments since he was 20. His second was a 1970s brick house in Murrumba Downs, which he bought with his father, Bruce Dutton, in 1993 for $60,000. It was sold two years later for $175,000.
Mount Cotton, south of Brisbane, followed in 1995 with a $45,700 property. It was sold in 2002 for $202,000, after he was forced to move to his Dickson electorate, where he had been elected a year earlier.
His next home was a four-bedroom house with a pool in Albany Creek, bought in 2002 for $280,000. It was sold two years later for $445,000 after his marriage to Kirilly and their move to a $710,000 acreage in Camp Mountain.
The Camp Mountain family home on the outskirts of Brisbane was sold in early 2020 for $1.8 million.
Last year, a beachfront house in Palm Beach on the Gold Coast that the Duttons bought in 2014 for $2,325 million, was sold for $6 million. That made the couple their most handsome return yet.
Even better for the Duttons is the fact that most of these properties were his home, so there was probably no capital gains tax on the sale results.
This story first appeared at The Sydney Morning Herald and The Age.