Stamolis said the long-term projections in the report were "way out of the ballpark" and the consultancy firm faced a difficult task calculating the potential costs as the "margins of error are huge".
loading
"Where were the checks on this? Where was the independent review of these numbers?"
Leichhardt resident Susanne Martain said at Tuesday's council meeting that the report should be abandoned as it was "clearly biased", contained inaccurate data, and did not present a road map for de-amalgamation.
"There has been no transparency. The community majority voted to demerge council, and our elected representatives have to respect the poll outcome and not attempt to sabotage it."
Newtown resident Pip Hinman, who is a member of community group Residents for De-amalgamation, told the meeting that the Inner West Council "could learn from the Cootamundra-Gundagai Council win".
"They had a community campaign supported by councillors, and they had a demerger case written by a local government expert which included a democratic pathway to demerge," Hinman said.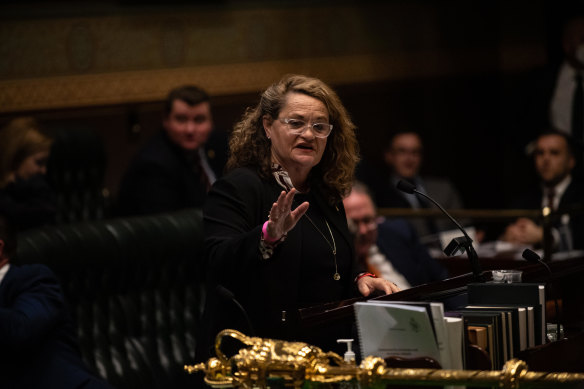 An Inner West Council spokesman said the organization would be submitting a business case for de-merger to the state government as it had committed to after the 2021 poll. The spokesman said Morrison Low had also prepared the business cases against forced mergers for Ashfield, Leichhardt and Marrickville councils in 2015.
Councillors will attend the workshop in October to further consider the business case before it returns to the council.
The spokesman said: "Council has written to the minister for local government seeking a written commitment that government will fully fund the costs of demerger identified in the business case as being between $178 million and $190 million over 10 years."
"The minister has given no commitment to providing these funds in her reply and has also refused to rule out putting the council into unelected administration."
loading
Tuckerman said she had sought advice from the Office of Local Government on the next steps for demerging Cootamundra-Gundagai Regional Council, which she said would be "a very complex undertaking".
"Any future demerger proposal received by the government would be considered on its own merits, in line with the provisions of the Local Government Act 1993," Tuckerman said.
Labor's local government spokesman Greg Warren said the forced mergers policy had failed in certain areas and there were "a number of unknowns regarding the process, timing and logistics of demergers".
"The minister needs to explain how the Local Government Boundaries Commission will be supported and deliver timely outcomes should a wave of demerger applications be received by the Office of Local Government."
Our Breaking News Alert will notify you of significant breaking news when it happens. get it here.