Sydney has repeated history, winning through to the grand final with an epic one-point win over Collingwood at the sold-out SCG.
In front of a heaving capacity crowd of 45,608, the Swans hit through a behind in the last few seconds to secure the 14.11 (95) to 14.10 (94) win in the preliminary final.
They will play Geelong in a grand final for the first time next Saturday at the MCG.
Sydney's only other preliminary final at the SCG was a one-point win over Essendon in 1996 — the start of an era that has featured two premierships and now six grand final appearances.
The Magpies — who have become the AFL's cardiac kids this season with a string of close wins — looked shot in the third term when they fell six goals behind.
But they kicked four goals to one in the last quarter to nearly do it again.
Crucially, Tom Papley was paid the mark and kicked his third goal for Sydney midway through the last term when he should have been penalized for a push on Darcy Moore.
Luke Parker subdued Collingwood star Jordan De Goey in a best-on-ground performance, while captain Scott Pendlebury was outstanding for the Magpies.
Lance Franklin kicked two first-half goals for the Swans, taking him to equal-third for AFL goals in finals with 74.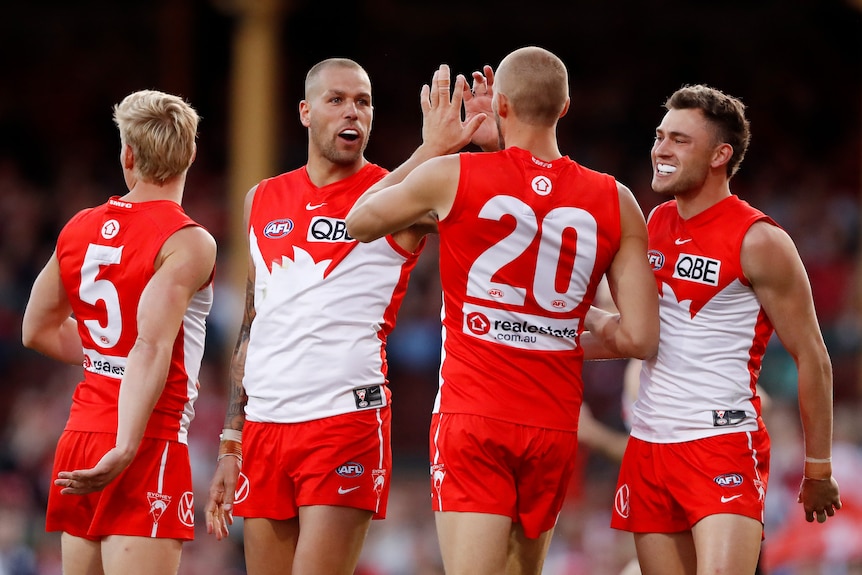 Swans key position player Sam Reid was subbed off at the start of the third term with an adductor injury, putting him in serious doubt for the grand final.
Sydney swamped Collingwood early and Parker snapped the home side's opening goal in the second minute.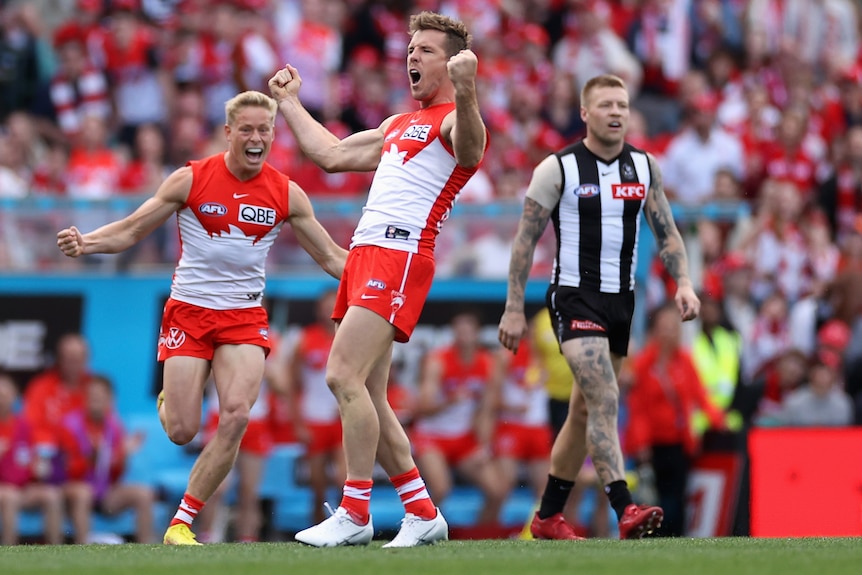 There was plenty of niggle and sledging, much of it revolving around Franklin.
Collingwood hard nut Brayden Maynard went to the Sydney star and they clashed frequently.
But Maynard and the Magpies were tickling the lion's tail and their strategy went badly awry.
Franklin — after a quiet final qualifying against Melbourne's All-Australian Steven May — was much more prominent.
Maynard was moved off Franklin late in the second term, immediately after conceding a 50-metre penalty that set up Papley for a goal.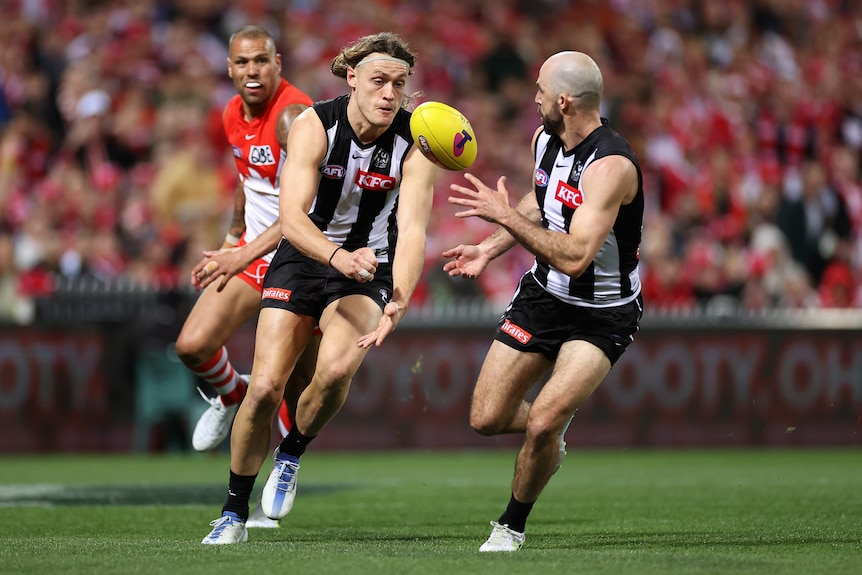 The Swans raced to 4.2 in the first 22 minutes to take control, before Collingwood scored its first goal with a snap to Will Hoskin-Elliott.
It was a fast and furious opening half with a total score of 18.8 — the most in the first half of a final since 2010.
Sydney led by 21 points at quarter time and five goals at the main break, holding off a Collingwood counter-attack in the second term and kicking three of the last four goals in the half.
Reid warmed up after half-time, but then left the field and Braeden Campbell was subbed into the match.
Cox also left the match in the third term because of a groin injury, with Nathan Kreuger taking his place.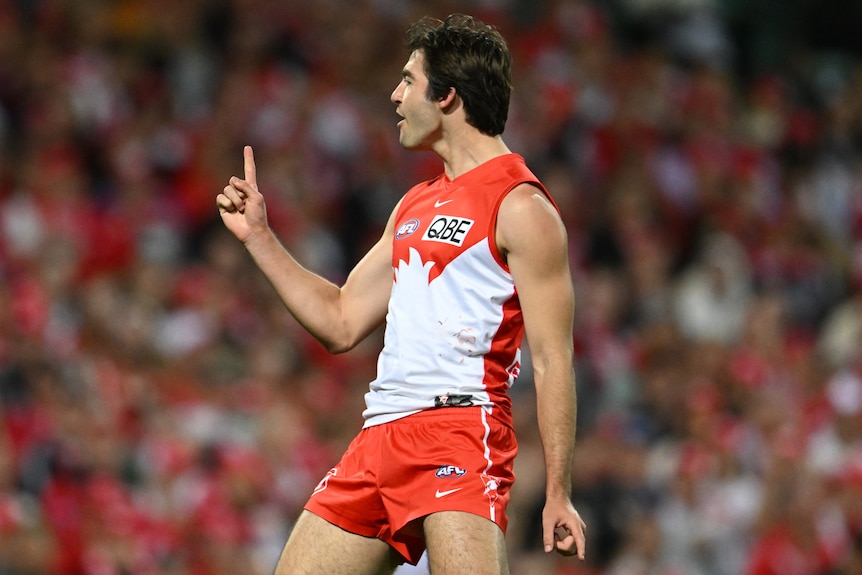 The match looked over 12 minutes into the third term when Moore — arguably the player of the finals in the first two weeks — tried to center a pass to Jeremy Howe.
Justin McInerney picked off the kick and tore forward to goal and put the Swans 35 points up.
But the Magpies rallied, kicking the next two goals.
And when Isaac Heeney missed a shot at goal after the siren at three-quarter time, the margin was only 23 points.
Look back at how the action unfolded in our blog.
live updates

That's it from us!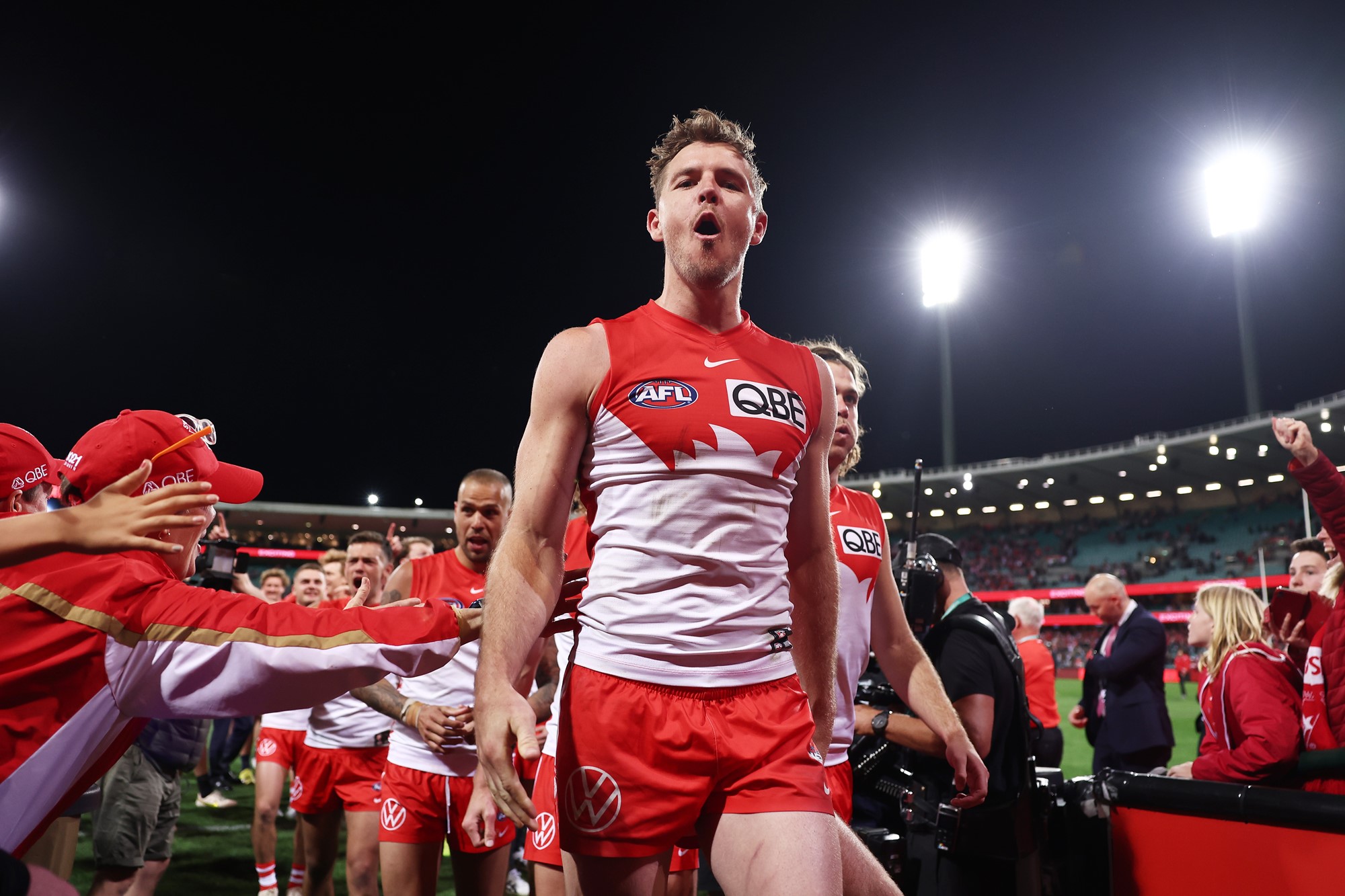 That was quite something, wasn't it? A game we will never forget, and a win that has set up a tantalizing grand final between Geelong and Sydney next week.
Thanks so much for you company tonight. I will be back on the blog tomorrow night for the Brownlow (yes, don't forget the Brownlow is on tomorrow night!), and then ABC Sport will be filled to the brim with grand final content all week. It's going to be massive.
Thanks for you company, we'll see you again real soon.

Buddy Franklin's fifth grand final awaits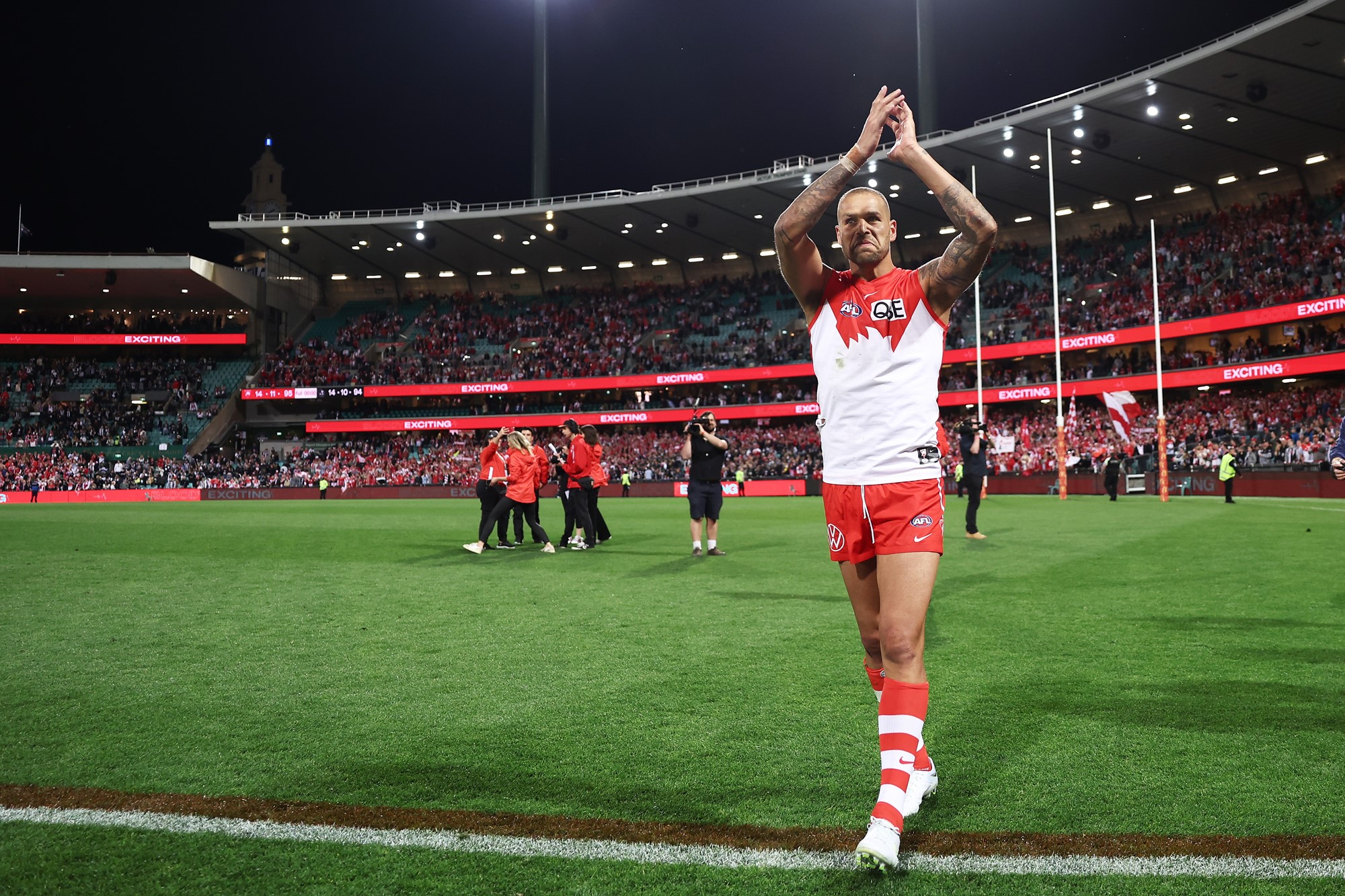 Could Lance Franklin end a year in which he kicked his 1,000th goal with his third premiership, and first as a Swan?
We should all just count our blessings we get to watch this man play on the biggest stage of all one more time.

Scenes from the SCG stands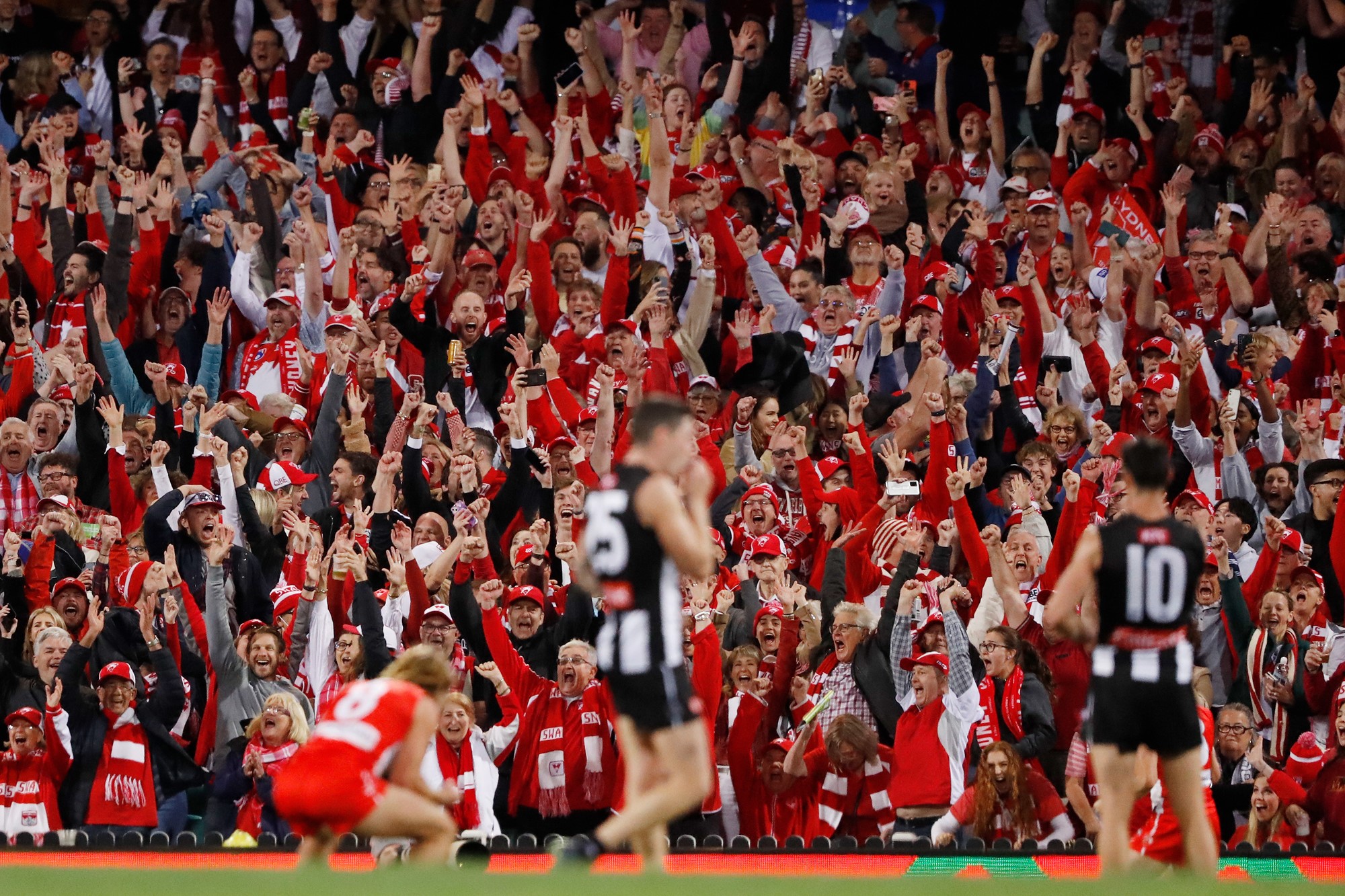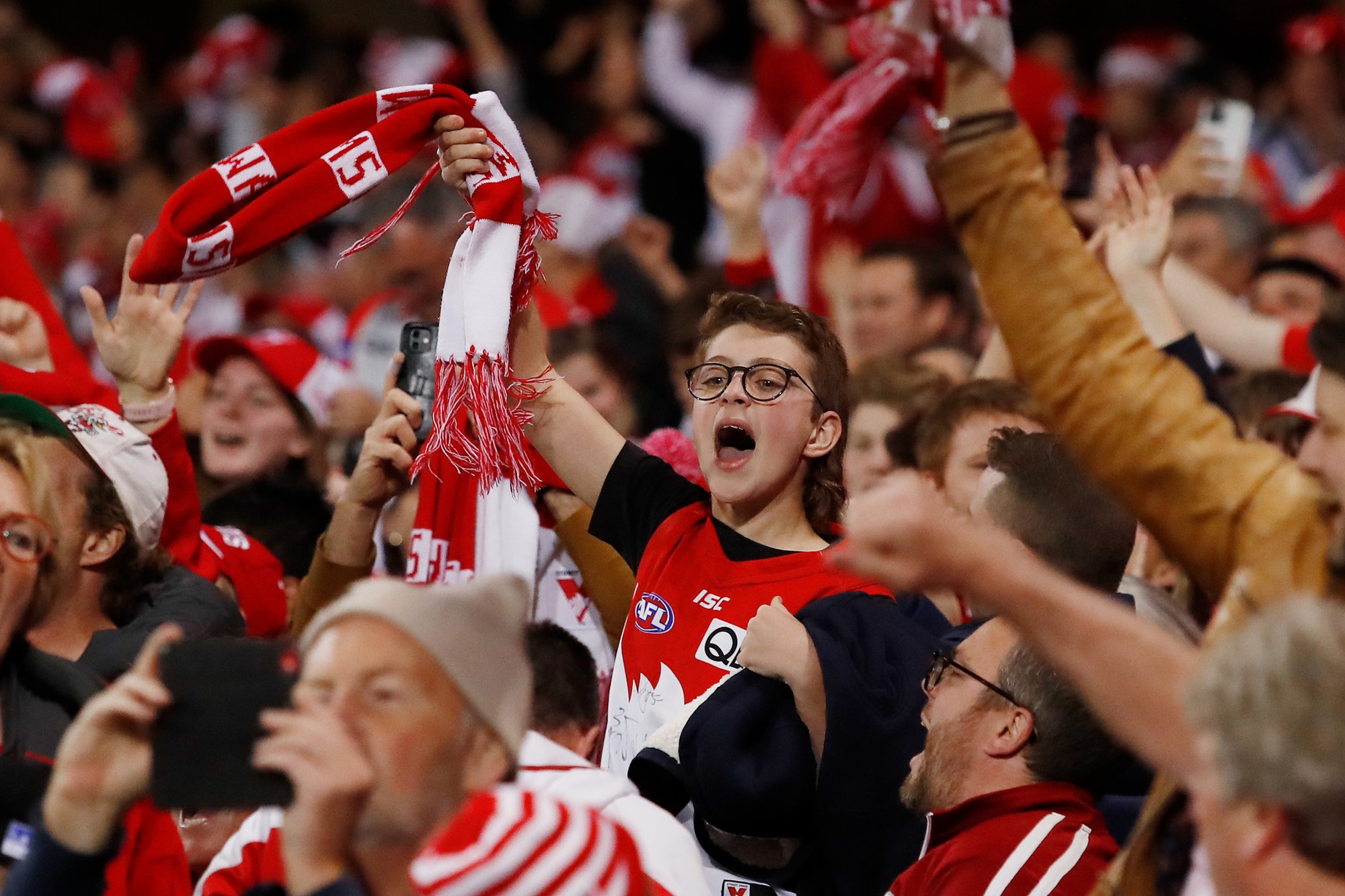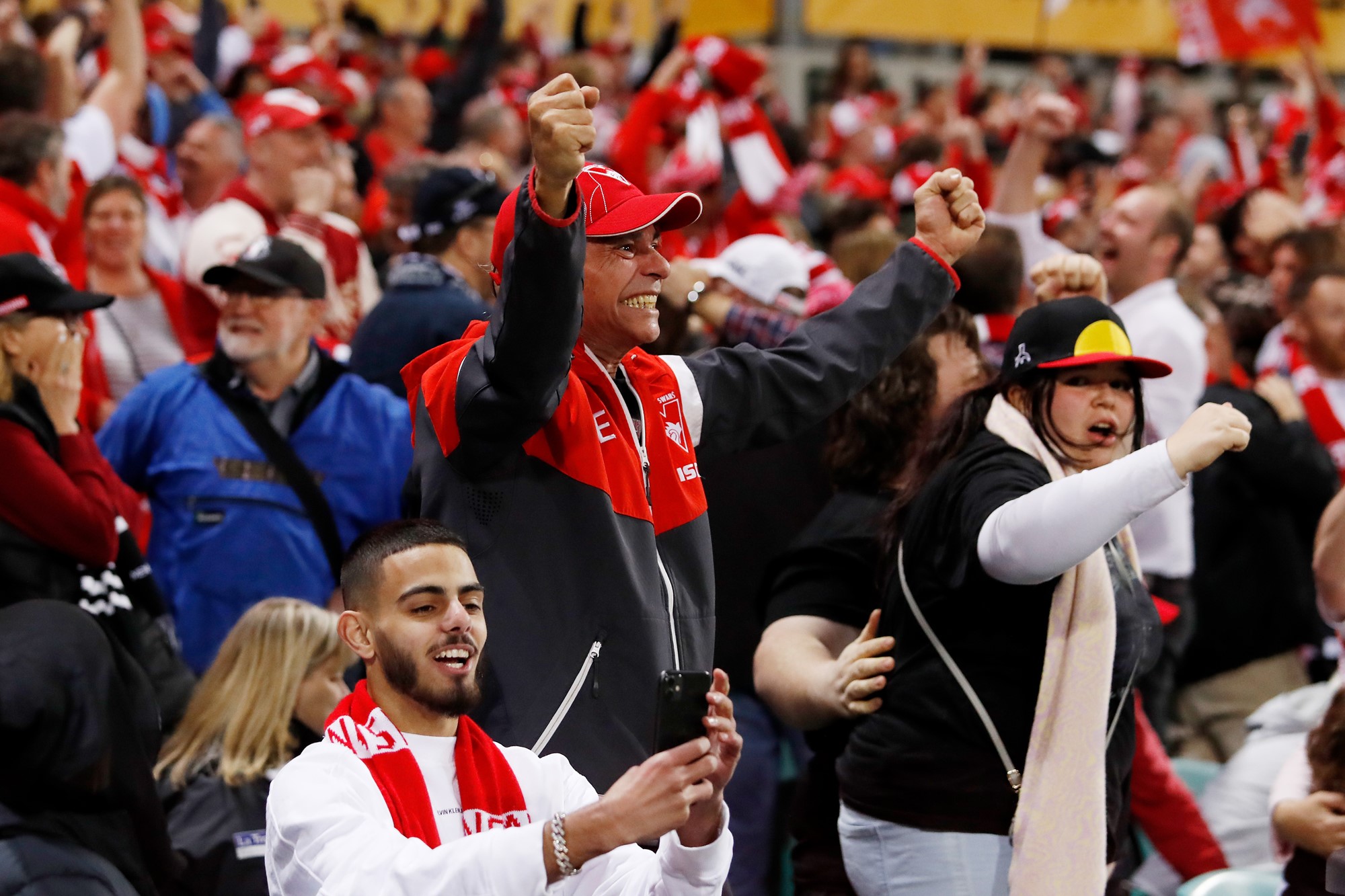 A farewell for Josh Kennedy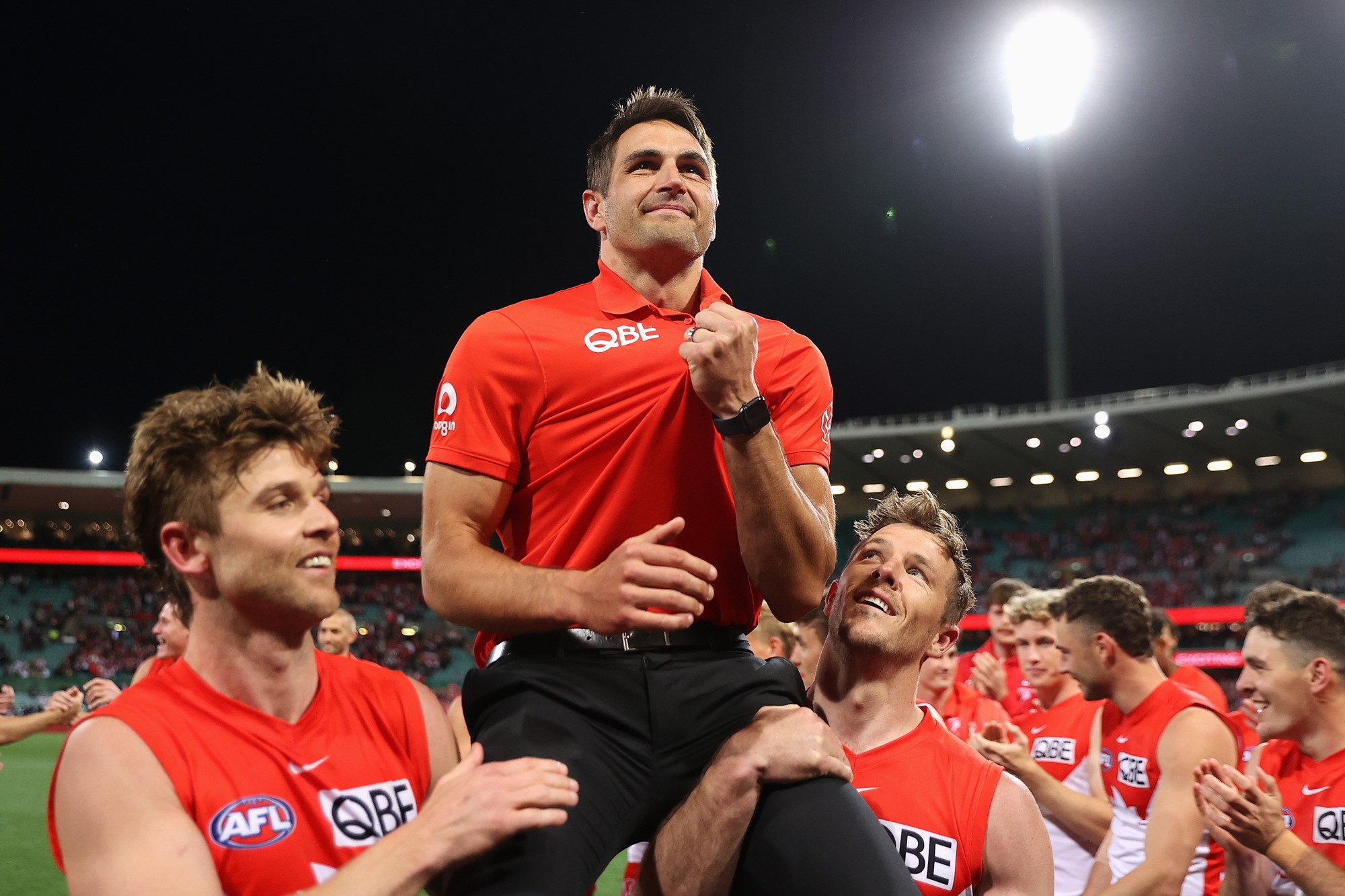 The legendary Swans midfielder awarded in his race to be fit again by the end of the season, so got to use tonight as a chance to say goodbye to the Sydney fans. And what magnificent send off it was.
A champion player, whose input over the coming week will be invaluable for his young teammates.

That magic moment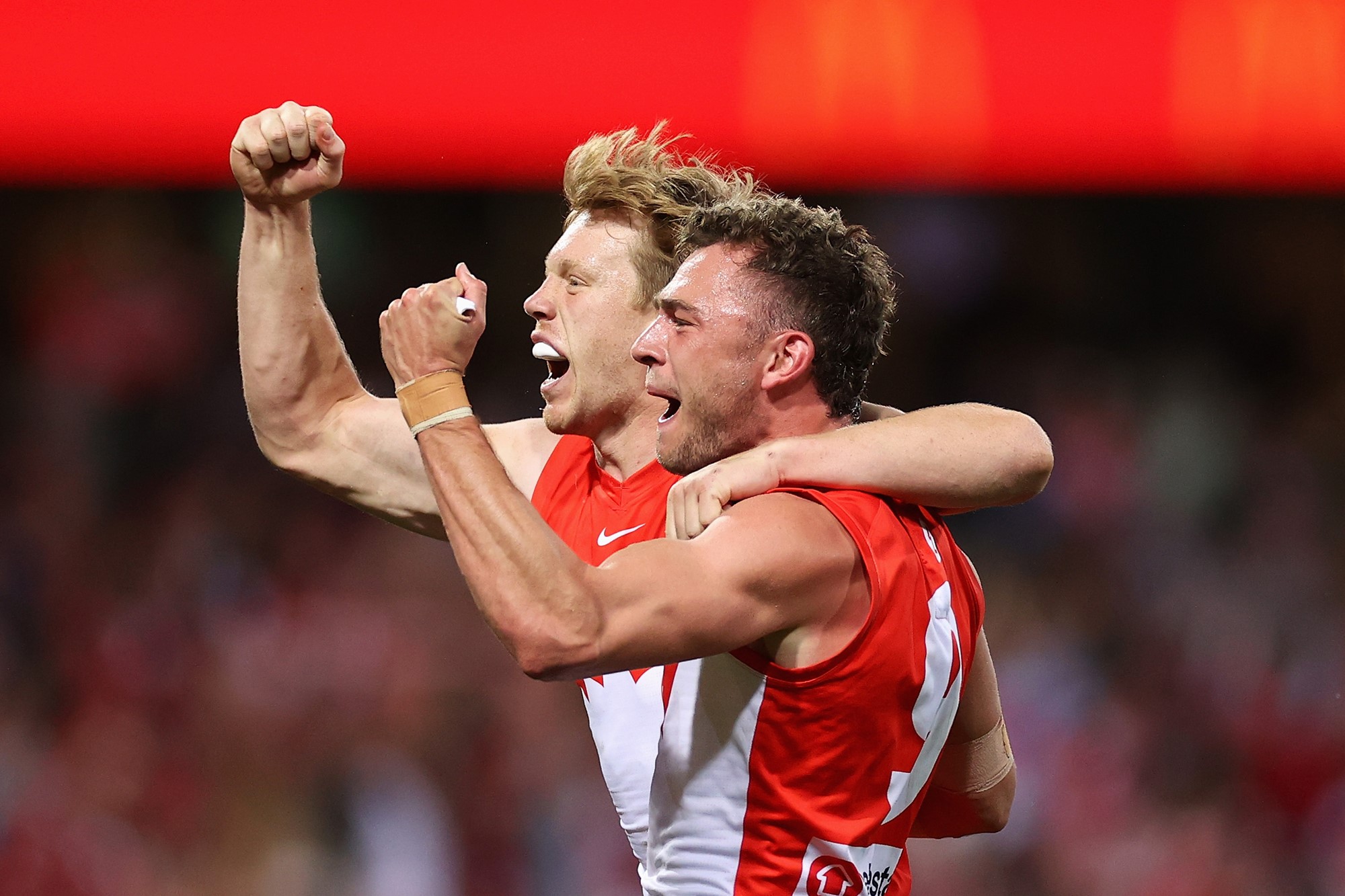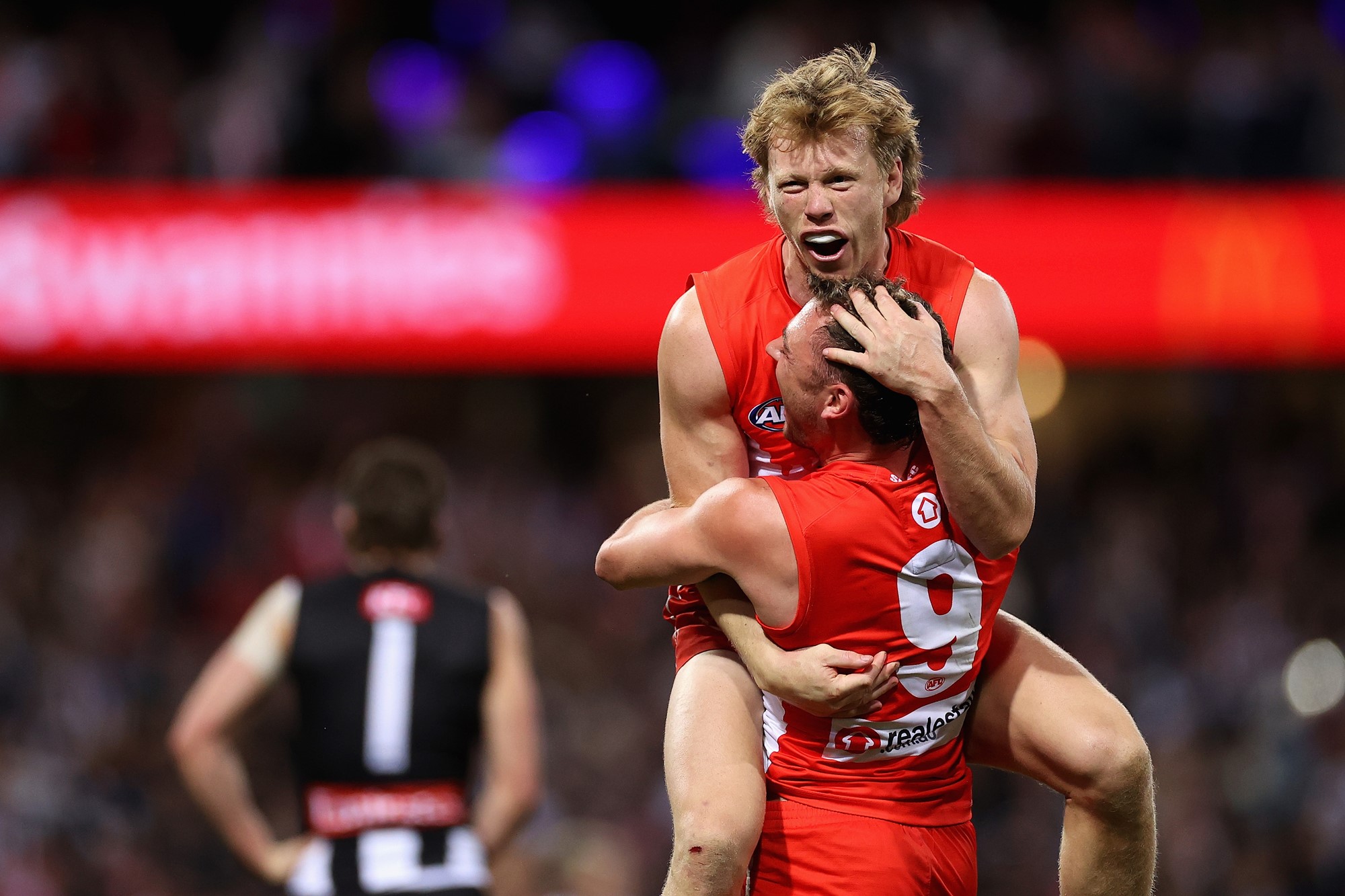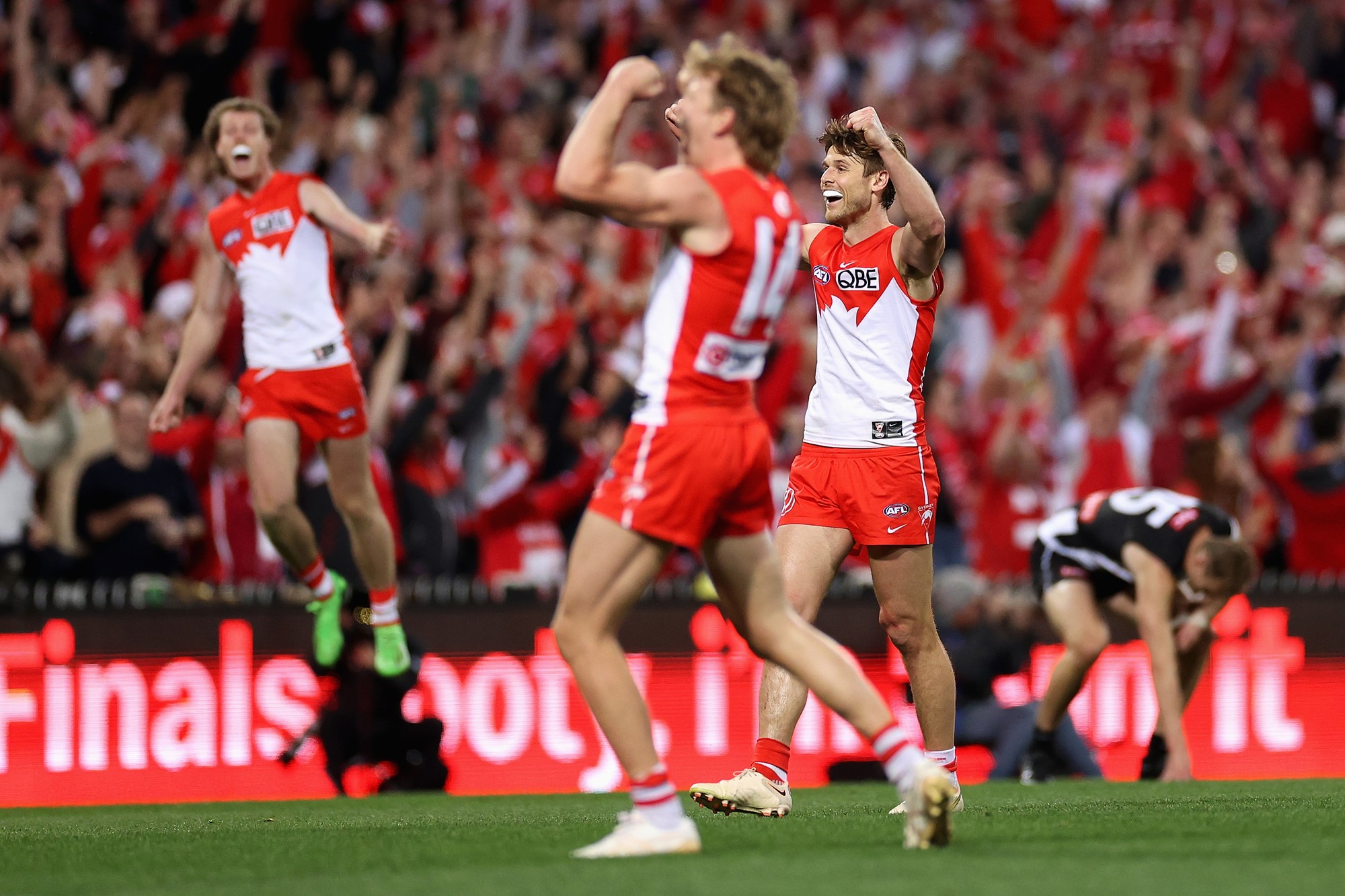 Sing it loud, Sydney fans

Want to relive that finale?
This one is probably more for the Swans fans.
How about those marks from Lance Franklin and Tom Hickey, and the spoil from Callum Mills? Complete desperation from those Swans players. And yet that ball so easily could have spilled to a Collingwood player at any stage for a shot at the win.
The margins were so ridiculously fine.

Sydney!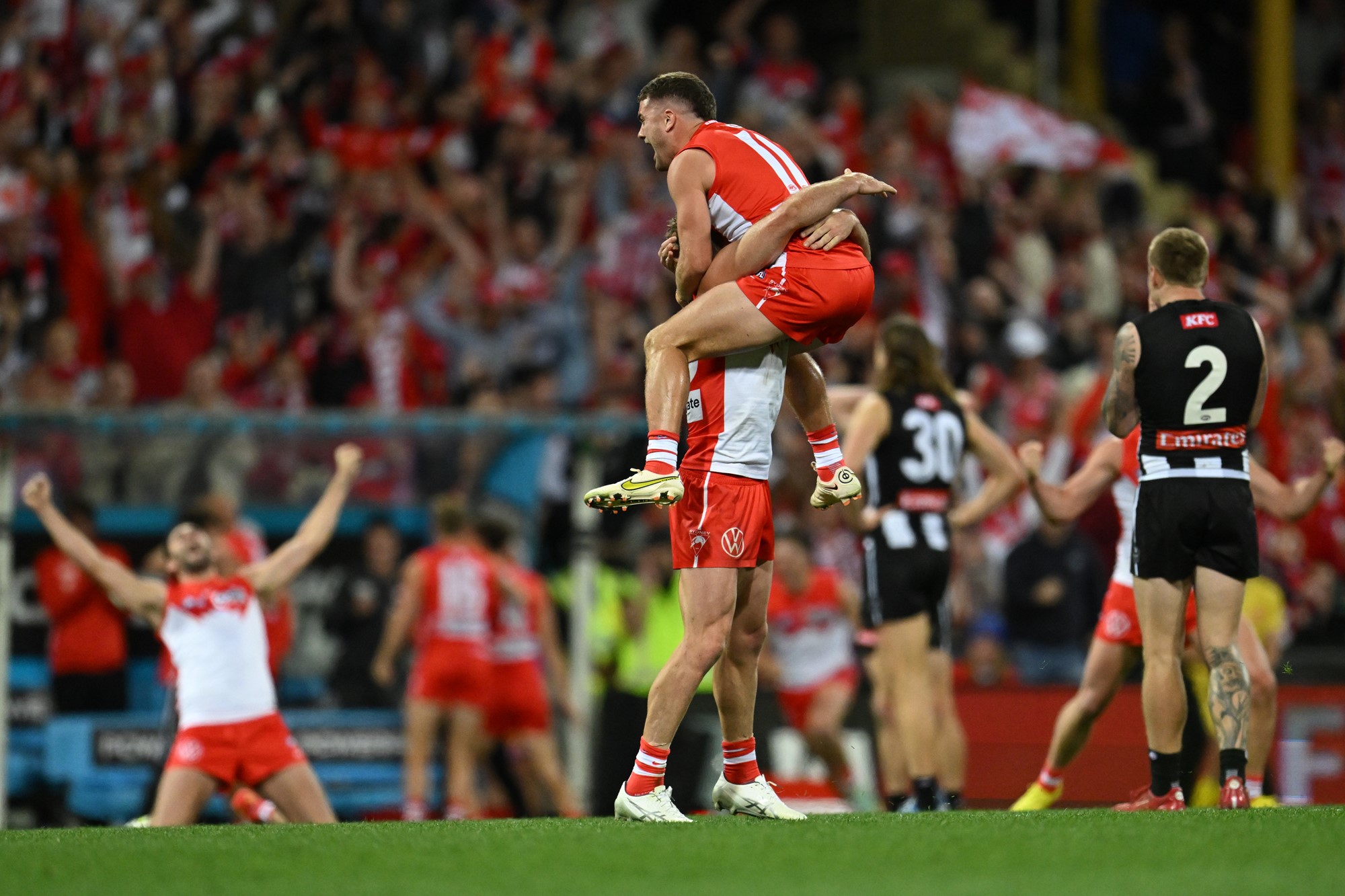 The Swans are through to another grand final, with one of the most captivating teams they've put together for many a year. This is a young team, one whose best years may still be ahead of them, but one that stood up to a gigantic occasion and found a way through.
The first half was scintilating from Sydney, their football far too good for Collingwood to handle. The question was going to be how they would respond to the Pies challenge – it may have been by the thinnest margin possible, but they stood their ground. Defiant to the last moments, players young and old stood up in the most critical of moments and delivered a win for the ages.
They're just one win away.

collingwood
What more can you say? They will talk about this Collingwood team for generations. From six goals down to within a point, no other team in the competition could have done what Collingwood did tonight.
Their season ends one step short of a grand final, but this has been a season beyond their wildest dreams. Craig McRae's boys are destined for big things, but even if they go all the way at some point in the future, I'm not sure the year wil be as special as this one.
What an unbelievable football team. They have brought more magic to this season than any other side.

Key Event
FT: SYDNEY WIN BY A POINT! THE SWANS ARE IN THE GF!
Are you kidding me? What have we just seen at the SCG tonight
The Swans have done it! Against a surging tide they've held their ground, somehow. just
Sydney will play Geelong in a grand final after maybe the best preliminary final we've seen this century.

1′: Rushed behind! Swans are going to win!
By the point! The Swans will win!

1′: Pies stoppage inside 50!!

1′: Boundary throw inside Swans 50
51 seconds to play, stacks of time for Sydney.

2′: Tom Hickey with the big clunk!
Another big contested mark! More seconds burned! Swans inside 50 now!

2′: Franklin with a huge contested mark!
He outmuscles Howe to take the grab on center wing! And now the Swans will kill some time.

3′: Blakey rushes a behind!
Oh my goodness, who else can't breath? Too much time for the Swans to hold possession! They have to score!

3′: STEELE SIDEBOTTOM. WHAT IS HAPPENING?!?
Collingwood are steamrolling over the top of the Swans! Florent just had to rush the behind! Instead he hacked it out, Mihochek smothered, it fell to Sidebottom and it was slammed straight back through.
THREE POINTS IN IT. 2:42 TO PLAY. ALL COLLINGWOOD RIGHT NOW.

5′: HOSKIN-ELLIOTT HAS KICKED THE GOAL
It's the NINE. POINT GAME
4:01 on the clock! A fumble from Parker at half-forward was enough for the Pies to break. Josh Daicos found WHE with a clever squaring kick, and even though he dropped the mark he had time to turn and snap.

5′: Gulden with another big tackle!
Elliott nearly broke through for a shot on goal but Gulden stripped him. Holding the ball. Swans try to slow it down again.

6′: Mihochek goals! Pies back to 15!
He had enough of it for the umpire to blow for the mark, and the Pies respond again! 5:25 on the clock, Collingwood needs three goals to win it.
.