Sydney drank more alcohol than Melbourne, Adelaide and Perth over 12 months: about 1200 standard drinks per 1000 people per day, compared with about 875 standard drinks in the others. All pale in comparison to Hobart (2142) and Darwin (2933). The latter pair are also clear leaders in nicotine consumption.
Methamphetamine use was high across all capital cities, led by Adelaide (1325mg per 1000 per day). Perth (1033mg), which ranked low for a range of drugs, came just ahead of Sydney and Melbourne (about 1025mg). Hobart recorded the lowest result – still almost 500mg.
Australian methamphetamine use is so high it outpaces many countries' use of all major stimulants.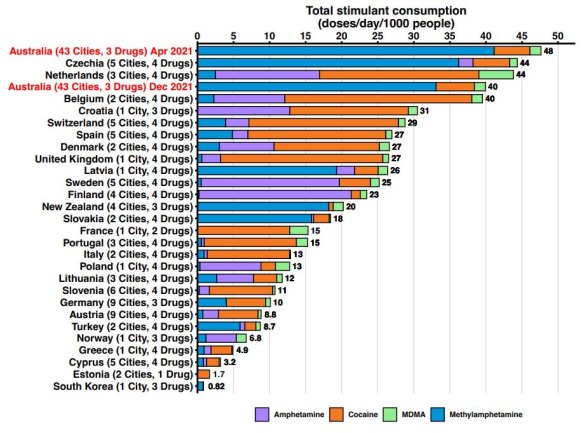 Australia is ranked first for illicit stimulant consumption (amphetamine, methylamphetamine, MDMA and cocaine) in standardized comparisons across 129 cities in 28 countries, co-ordinated by the SCORE Network of mainly European laboratories.
The Australian program tracked three opioids: heroin, fentanyl and oxycodone. The results showed Melbourne used an estimated 221mg of heroin per 1000 people per day on average during testing weeks, but some of the lowest amounts of fentanyl and oxycodone. Sydney was second for heroin use at 123mg, followed by Brisbane at 93mg.
At first glance, Hobart had one of the lowest heroin rates (23mg per 1000 people per day), but it led the country in consumption of fellow opioids, fentanyl and oxycodone.
Dr Amy Peacock, who leads the National Drug and Alcohol Research Center's drug trends program, said there were limits to wastewater testing but understanding the full picture of how and why people used drugs was important.
Peacock said regional variations in drug use are, at a basic level, a question of supply and demand – but they could also be driven by things like geographical proximity to drug production, trafficking routes and drug dependence.
"For example, reduced availability of a certain drug may cause some people to reduce or cease their use of that drug or seek out treatment where needed," she said. "Alternatively, it may lead some people to engage in drug use behaviors which might increase their risk of harm, such as seeking out a different drug which might carry greater risks."
Jauncey said heroin, like cocaine, was an exclusively imported drug that made it difficult to buy due to Australia's isolation and tough border controls.
She said the alarming seizure of 11.2 kilograms of fentanyl last month suggested the Australian market was at risk of relying more heavily on the lethal opiate.
loading
"The Northern Territory and Tasmania traditionally don't get heroin because it's used up by all the major cities – it's gone before it gets there," she said.
"The sector is definitely nervous about illicitly manufactured fentanyl, which is driving a terrible problem in the United States.
"Everyone working in the sector here – that is already stretched and underfunded – is concerned that it will hit Australia; that very large seizure tells us that people are trying to get it in here."